Milchar
October-December 2002 issue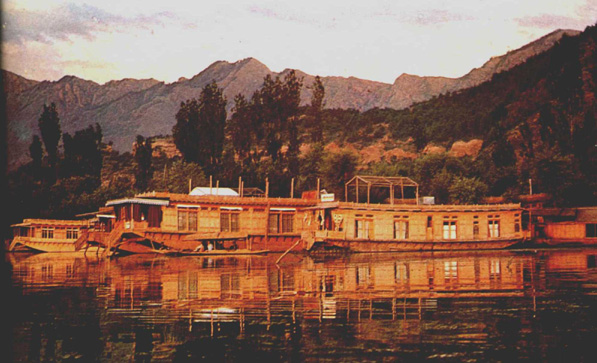 House Boats on Dal Lake in Srinagar. Credit for introducing House Boats in Kashmir goes to Pt. Narain Das, father of Swami Laxman ji.
Poetry
Middle Path*
Once there lived a prince named Shrone
He was one of the greatest epicures
the history has ever known
He was obsessed with sensual gratification
He did weird things for his satisfaction
He would enjoy food fifteen times a day
For doing so, he had his own way.
After enjoying greedily and eating to fill
He vomited the food with help of a herbal pill
One day he came to know that Buddha
had come to a nearby village
His curiosity to listen to the sermons
took him to the sage
Nobody believed that Shrone had gone
to listen to a sermon
As if western direction had borne
the morning sun.
He listened keenly to Buddha's discourse
And his life took a different course.
Buddha's words played magic on Shrone
He decided to renounce his family and throne.
He resolved to follow Buddha to all the places
Without caring a bit for his comfortable palaces.
He who used chariots and never walked on land
Was now walking barefooted with the
holy band.
All monks would bathe and walk on
smooth path
But he walked on thorns and would not
take a bath.
As disciples took a moderate meal
But he starved himself with a stubborn zeal.
After a long starvation he became a horrible sight
Now he was a bony cage and seemed
struck with blight.
The prince for whom the scents
were once a passion
Was now stinking badly and
worthy of compassion.
Buddha, the omniscient, easily divined
The turmoil going on in Shrone's mind.
Buddha wanted to get Shrone out of this
'new foolishness'
Knowing very well that hurting oneself is
no goodness.
He visited Shrone's hut one day
And said, "Shrone, I heard you loved to play veena, your favourite instrument"
Shrone weak and famished in agreement.
Buddha enquired, "What if the strings are tightened too much"
Shrone replied, "Sir, strings will break even with a moderate touch"
Buddha asked, "And what if the strings are
kept too loose"
Shrone replied, "Again, playing veena
will be of no use".
Buddha said, "What applies to veena
applies to us too
Avoid extremes and do what I tell you to do".
"Be moderate in eating, sleeping
work and recreation
That is what will take you slowly to perfection."
"Shun the extremes if you want music in your soul
By taking to 'middle path'
you will reach the final goal."
[* Old story about Buddha. Put to verse by Vinay Kaul]